Shop Illinois PPO Health Insurance Plans in all 102 Counties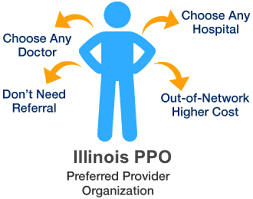 Are you in the market for health insurance plans and considering an Illinois PPO plan? Or did you just want to get a better idea as to what the Illinois PPO health insurance market has?  Here at Vista, were the number one Illinois PPO health insurance market for individuals, freelancers, and small business owners.
We provide you with the key resources and expertise needed to help you make an informed decision on choosing the Illinois PPO plan that's right for you.
Illinois PPO Insurance Carriers
Below is the most updated list of Insurance companies that offer Illinois PPO health insurance plans in 2022 for Small Businesses.  Only certain insurance carriers make plans available to working individuals, Freelancers, and the Self Employed. Please call us for the latest carrier information.

What to Know When Shopping for an

Illinois

 PPO Insurance Plan
Listed below are some of the most common concerns when shopping for an Illinois PPO health insurance plan.
Are Your Doctors In-Network – Before making a health insurance plan purchase, always verify that your providers(s) are participating in the PPO network. even though an IL PPO plan will avail you of out-of-network services.  Seeing an out-of-network provider(s) may prove costly as compared to if that provider was in-network.
You should do more than just verify the receptionist in your doctor's office before you enroll in a costly PPO plan. Your best option would be to confirm with the insurance carrier that your doctors are in fact in-network. Why verify? Well, when an out-of-network provider may suggest a procedure, then that and all other services provided by that recommended doctor will be billed as out of network, even if the facilities and doctors are in-network.  With an IL PPO health plan, your out-of-network medical treatment will go towards your out-of-network deductible and coinsurance
Lower Monthly Premium May Result in Higher Costs– Health insurance has the simplest of formulas: the less your pay per month for the insurance, then the more likely it is to be expected that you pay higher costs when you use the insurance. If you're healthy overall and don't foresee any health-related problems and you are not one to use prescriptions regularly, then perhaps you're best off selecting a lower costing health insurance plan.
If you do find that your medical bills and prescription usages are above average, then you might save money by opting for a plan that costs more per month. Be sure to consider your current health condition and health history when comparing and shopping for an Illinois PPO health insurance plan.
Health Insurance is a Contract – You and the IL PPO Insurance agree to abide by the terms of the contract (in most cases for one year). If you find that mid-policy you are not happy with the plan you selected, you can't go back to your insurance company any time and ask them to change plans.  Be certain to choose the right plan that works for you before signing the contract.  If your State Marketplace plan has lapsed, you're eligible to purchase an IL PPO health plan, mid-year as long as you are employed. 
Types of Insurance Coverage – EPO, PPO, POS, HMO, HSA, and HDHPA. Are the most common types of insurance coverage sold today and for the last 20 years. These plan types differ in that they provide you with or without the flexibility to utilize specialists and receive out-of-network and out-of-state care. Additionally, different health plan types have different requirements related to their need for referrals. If you're one that often sees specialists that are not in-network, then you certainly want a plan that offers that flexibility.
If you are a traveler and live and or work in multiple states each year, then an Illinois PPO plan which offers that type of flexibility is needed. The last two plan types,  HSAa and HDHPs allow you to sign up with a dedicated HSA bank, tax-free savings account specifically for qualified medical bills 
Are Essential Health Benefits Covered? – All Illinois PPO plans to cover the 10 essential health benefits. These 10 EHBs provide you with a guaranteed level of coverage set by the Affordable Care Act. Why does the public need a minimum standard level? Consider that the cost of health care is prohibitive and that without insurance in place it can often lead to financial ruin. Ensuring that a plan meets the minimum essential health benefits threshold provides a safeguard.
Illinois

PPO Rates for 2022
The following is a table of Common individual Illinois PPO plans, including rates and benefits. This information is approximated so it's suggested that you  call for specific plan information
| | Cigna Elite PPO Advantage 5000 | Cigna Elite PPO Silver 3000 | Cigna Elite PPO 1000 |
| --- | --- | --- | --- |
| | National | National | National |
| In-Network Benefits | Cigna PPO OAP Network | Cigna PPO OAP Network | Cigna PPO OAP Network |
| Office Co-pay | $20 | $40 | $30 |
| Specialist Co-pay | $60 | $60 | $50 |
| Rx: Generic/Brand/High Brand | $0/25%/50% after deductible | $0/25%/50% | $0/25%/50% |
| Emergency Room | 30% after deductible | 30% after deductible | 20% after deductible |
| Hospital Co-pay | 30% after deductible | 30% after deductible | 20% after deductible |
| Referrals Needed | No | No | No |
| In-Network Deductible (single/family) | $5,000/$10,000 | $3,000/$6,000 | $1,000/$2,000 |
| Max Out of Pocket (single/family) | $8,150/$16,300 | $8,150/$16,300 | $8,150/$16,300 |
| In-Network Co-Insurance | 30% | 30% | 20% |
| Out-of-Network Benefits | | | |
| Deductible | $10,000/$20,000 | $6,000/$12,000 | 6,000/$12,000 |
| Out of Pocket Max (single/family) | Unlimited | Unlimited | Unlimited |
| Co-Insurance | 50% | 40% | 50% |
| Other Benefits | | | |
| Vision/Dental | Pediatric Vision and Dental | Pediatric Vision and Dental | Pediatric Vision and Dental |
| Mental/Substance | 30% after deductible | 30% after deductible | $50 |
| Renewal Date | 12/31/2022 | 12/31/2022 | 12/31/2022 |
| Premium | | | |
| Single | $735.00 | $905.00 | $1,285.00 |
| Couple | $1,400.00 | $1,790.00 | $2,635.00 |
| E+child | $1,213.00 | $1,520.00 | $2,2215 |
| Family | $1,743.00 | $2,225.00 | $3,305.00 |
| Summary of Benefits | Cigna Elite PPO Advantage 5000 | Cigna Elite PPO Silver 3000 | Cigna Elite PPO 1000 |
Most Common Questions Regarding an

Illinois

 PPO Health Plan
How much does an

Illinois

 PPO cost?
Illinois PPO Health plans are more expensive than other plan types due to the flexibility that all PPOs provide.  Use the table above to for the most up to date  IL PPO rates
Does my doctor accept

Illinois

 PPO Insurance?
You can always phone your doctor's office through its best to verify with the health insurance company directly. Start by locating the list of insurance companies above and choose your carrier. Once you're on their website, locate the provider directory list and see if they have a dedicated  PPO network section.
Where can I buy an

Illinois

 PPO health insurance plan?
IL PPO Health plans are sold mostly through broker representatives. They not only set the health plan and complete the paperwork on your behalf, but they also assist with any insurance issues throughout the plan year.  You're best to work with a broker that's appointed with multiple carriers in your area,  this will provide you with a greater selection of plans and carriers to choose from
How do I qualify for an

IL

PPO plan?
If you're self-employed or a freelancer then you may qualify for a PPO plan. Some working individuals may also qualify however it's up to the Business Association that is sponsoring the plan
Can I buy an

IL

PPO plan anytime?
You can.  IL PPO health plans have a 1/1 effective date every month of the year. You should have the application completed by the 15th of the month for your coverage to begin on the 1st of the following month.
What happens if I'm not happy with my

IL

PPO health plan, can I change it?
Your only option is to find another PPO provider that will provide coverage, and then terminate your original plan. As indicated above, health insurance is a contract and you agreed to abide by those terms. Therefore, you cannot switch from plan A to plan B with the same carrier before your plan is up for renewal. You would have to find a new carrier.
What makes an IL PPO plan special?
The flexibility of any PPO health plan is its value.  You can select any doctor anywhere in the states. That's a tremendous advantage as compared to any other plan type where you are required to use their in-network providers.  This is most true for those who have serious medical conditions and need the freedom to choose.
Do I have to be self-employed or part of a group to buy an IL PPO plan?
The two most common ways of being insured under an  IL PPO health plan are, as an employee of a company whose company plan is a PPO.  The second would be for individuals, freelancers, and sole proprietors to join up with a business association that offers PPO plan options.
Does the State Exchange or healthcare.gov sell IL PPO health plans?
Not for Individual health insurance coverage. The Federal Exchange and State Exchanges offer mostly HMO and EPO plan types.  small businesses that purchase coverage through the exchange do have PPO options however they are limited.
Do freelancers qualify for

IL

PPO plans?
Individuals and freelancers are the same. To qualify they must join an association that offers its membership PPO health plan options.
Can I qualify for an IL PPO plan if I am 65 or older?
those 65 or older that are employed have the option of keeping their health insurance plan instead of selecting Medicare.  If not employed, they could not be eligible for an Illinois PPO plan.
Are IL PPO plans offered as short-term medical plans?
Yes.  Short-term medical is commonly purchased when between jobs or as a last resort plan type. Many of these short-term plans buy into Networks that are PPO types, however, while the network might've been strong, most short-term plans don't cover the 10 Essential health benefits and are not comprehensive health plans, be sure to review the summary of benefits.
Why are IL PPO plans more expensive than other types of health plans like HMOs?
Illinois PPO plans are more flexible and offer higher reimbursement rates to select doctors and hospitals, they are almost always more expensive than a standard HMO plan, where someone must utilize the in-network only providers.  There is a cost to having the ability to a provider across the nation.
Why are there more hospitals and doctors in an IL PPO plan than a non-PPO plan?
Insurance companies pay hospitals and doctors above-average reimbursement rates to have them participate in their PPO plans. As such these doctors who normally don't accept the reimbursement rate of lesser plans like an HMO will often participate in a PPO.