Shop Affordable Ohio PPO Plans in all 88 Counties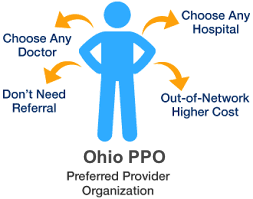 Are you shopping for an Ohio PPO plan? Are you looking to better understand the Ohio PPO health insurance market and compare OH PPO rates? At Vista, we pride ourselves on our knowledge of PPOs and plan options. We'll help you will find all the information needed to help you shop and compare Ohio PPO plans.
Ohio PPO Insurance Carriers
Below is a listing of carriers that offer Ohio PPO health insurance plans for sale to Small Businesses.  Because of market changes, only certain insurance companies have made plans available to working individuals, Freelancers, and sole proprietors. Please call for the latest carrier information.
Aultcare Insurance Company in Ohio

What to Know When Shopping for an Ohio PPO Insurance Plan
Below are some of the most common concerns when shopping for an Ohio PPO health insurance plan.
Are Your Doctors In-Network – Before buying a health insurance plan you should always ensure that your doctor(s) are part of the network even if  OH PPO plans will cover out-of-network services.  Visiting an out-of-network doctor may cost substantially more than if the doctor is in-network.
Don't only ask the doctor's office if they participate in a certain insurance plan before you enroll. You should always verify with the insurance carrier or a carrier agent that your doctors are in-network. Why should you be concerned? Well,  if an out-of-network provider suggests a service, then all of the care provided by that doctor will be deemed out of network, even if the facilities and doctors are in-network.  With an OH PPO health plan,  your out-of-network services will go towards your out-of-network deductible
Lower Monthly Premium Can Result in Higher Costs– Health insurance has a simple rule: the lower your monthly premium is, then the more likely you will pay higher costs when you use the insurance. If you happen to be in good health and don't foresee many health-related issues and don't use prescriptions regularly, then perhaps you're better off going for a lower-cost health plan. If you find that your medical and prescription usages are high, then you might save money by selecting a plan that costs more per month. Always consider your current health status when shopping for an Ohio PPO health insurance plan.
Health Insurance is a Contract – When buying an OH PPO health plan, both parties agree to live up to the contract (usually for a length of one year). If you find that you during the year, you're not happy with your plan, you can't go to the insurance company mid-year and ask for a change in coverage.  Therefore be sure to select the right plan that meets your needs before signing the contract.  If you have had a State Marketplace plan that has lapsed or been canceled, you're able to purchase an OH PPO health plan mid-year as long as you are employed. 
Types of Insurance Coverage – EPO, PPO, POS, HMO, HDHP, and HSAs describe different types of health insurance coverages, that provide you with or without the freedom to see specialists and receive out-of-network care and out-of-state care. As well, different plans have different conditions related to the need for referrals. If you're regularly seeing specialists out-of-network then you should opt for a plan that offers that flexibility.
If you travel often for work or live in multiple states in the year, then maybe an Ohio PPO plan that offers that flexibility is a good choice for you. The last two plan types,  HDHP and HSA's are government approved and allow you to set up tax-free savings account that is specifically designed to cover qualified medical costs 
Are Essential Health Benefits Covered? – All Ohio PPO health plans cover the 10 essential health benefits. This provides the insured with a guaranteed minimum level of coverage, which was the standard set by the Affordable Care Act. Why would someone need a minimum standard level of coverage? Because the cost of health care is prohibitive and without insurance in place, it can often lead to financial ruin for a family.  Including the minimum essential health benefits provides a safeguard.
Ohio PPO Rates for 2020
Below is a table of available  Ohio PPO plan options.  The information below such as Rates and benefits are approximate. Please call for specific plan information
Benefits

In-Network

Out-of-Network

Age 19 – 64

Office Copay

$20/$60

Deductible

$5,000

Maximum OOP

$8,160

Rx

0/25%/50%

Office Copay

$40/$60

Deductible

$4,000

Maximum OOP

$8,150

Rx

0/25%/50%

Office Copay

$30/$50

Deductible

$1,000

Maximum OOP

$8,150

Rx

0/25%/50%

Office Copay

Deductible

Deductible

$6,750

Maximum OOP

$6,750

Rx

Deductible

Office Copay

$40/$60

Deductible

$2,500

Maximum OOP

$8,150

Rx

0/25%/50%

Office Copay

$25/$30

Deductible

$350

Maximum OOP

$700

Rx

0/25%/50%
Most Common Questions Regarding an Ohio PPO Health Plan
How much does an Ohio PPO cost?
Ohio PPO Health plans are most often more expensive than other plan types due to the flexibility that  PPOs provide.  Use the table above to see OH PPO rates and shop plans in your state
Does my doctor accept Ohio PPO Insurance?
Locate the list of health carriers above and select your company. Once in the network list of your company, see if there is A PPO network section. You can always telephone your doctor's office, though, its best to verify with the health insurance company
Where can I buy an Ohio PPO health insurance plan?
OH PPO Health plans are often marketed through broker representatives. As part of their service, they set the health plan up and also assist with any premium or claims issues through the plan year.  It is best to work with a broker rep that is appointed with each carrier in the region so there is a choice when selecting a carrier and/or plan.
How do I qualify for an

OH

PPO plan?
To qualify for an OH PPO plan, the applicant must either be employed, self-employed, or a freelancer.
Can I buy an

OH

PPO plan anytime?
Yes.  OH PPO health plans are available to go into effect at the beginning of the month during the year. In most cases, the application should be complete by the 15th of the prior month to have the coverage begin on the 1st of the following month.
What happens if I'm not happy with my

OH

PPO health plan, can I change it?
Since your PPO  is a contract, you cannot change your plan until your PPO plan renews, usually one year from the start date.  You can switch OH PPO plans mid-year as long as you change to a different insurance company.
What makes a PPO plan special?
PPO plans are really easy to use and don't require the insured to get referrals. You can go to any doctor or hospital that you choose. That's a great benefit as compared to an EPO or HMO plan where you must use their in-network providers.  That is especially true for those who travel often and want to be able to see a doctor or specialist anywhere in the country.
Do I have to be self-employed or part of a group to buy a PPO plan?
The two most common ways of getting an OH PPO health plan are, as an employee of a company whose company plan is a PPO and for individuals, freelancers, and sole proprietors to join a business association that is offering a PPO.
Can I purchase a PPO from the State Exchange and healthcare.gov?
There are no individual PPO options for sale on the state exchanges or healthcare.gov.  The only plan types for sale are EPOs and HMO plans.  Small businesses do have a few PPO options on the exchanges, however, they are limited.
Do freelancers qualify for

OH

PPO plans?
Since the ACA was established, freelancers are classified as individuals, and that means they must become part of a business association that is offering an Ohio PPO health plan to be eligible for insurance.
Would  I qualify for a PPO plan if I am age 65 or older?
If employees of a business are age  65 or older, they have the option to keep their OH PPO health insurance plan instead of signing onto Medicare.  If that senior is not working for a company, then they're eligible for an Ohio PPO plan.
Are PPO plans offered as short term medical plans?
Yes.  If a prospective insured is considering a short-term medical plan, there are PPO Plans available, unfortunately, many short term medical plans are not true health insurance plans so be sure to review the summary of benefits.
How come PPO plans have higher rates than other types of health plans like HMOs?
Ohio PPO plans are easy to use and reimburse doctors and hospitals at higher levels, as such they are typically more expensive than HMO plans which require you to stay within the network of contracted providers.  That is the cost associated with having the ability to see any provider in the nation.
Why is it that PPO networks have more hospitals and doctors than non PPOs?
Insurance companies reimburse certain doctors and hospitals at higher reimbursement levels to have them participate in Ohio PPO plans. As such those doctors who don't accept the reimbursement rate levels of lower reimbursing plans such as HMOs will often participate in a PPO.