Shop Affordable PPO Health Insurance Plans in all 50 States!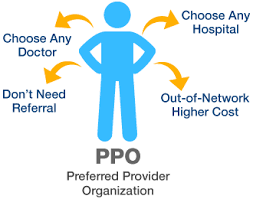 Are you shopping for a PPO health insurance plan? Are you looking to better understand the PPO insurance market or compare PPO prices?  Here you will find key resources  and the most common questions to help you make an informed shopping decision                                                                                                             
TABLE OF CONTENTS
What is a PPO Health Insurance

Plan
PPO stands for Preferred Provider Organization. It is a type of managed care health insurance plan that provides discounted medical services through a nationwide network of contracted medical professionals and facilities. It includes healthcare specialists such as primary and specialty physicians as well as top-rated hospitals.
The in-network services are offered at reduced and very reasonable rates. For the insurance shoppers' peace of mind, these rates have been negotiated and previously agreed upon between the insurance companies and the medical care providers who bill the insurers directly so there is no need for those insured to worry about adding in-network costs. If however, the insured person prefers to seek the services of a medical professional not contracted with the plan, an out-of-network provider, this can also be done.
A PPO is a health insurance plan with minimum restrictions and therefore minimum stress for those insured providing greater flexibility, the independence to choose, and the added comfort of just knowing that medical care is available whenever required. Among other managed care plans, PPOs give the most flexibility and freedom. PPO plans allow you to go to specialists without having to go through a PCP (primary care physician) for a referral. There is no need to select a PCP. 
What Makes a PPO Plan Better Than a Standard In-Network Only Plan?
What makes a PPO health insurance plan a better choice than all the other plans out there? Well, on the one hand, a PPO offers members the opportunity to see a medical specialist without the need for a referral from a primary care provider (PCP); such a valuable asset, especially in urgent situations! 
Those insured on a PPO plan do not need to select a PCP at all if there is no wish to. On the other hand, subscribers can also opt to be cared for by providers not within the plan's large network if they prefer; they are not restricted to medical service providers listed in the network. Therefore, those insured can find out if their favored doctors are part of the organization or, if not, still choose them as their medical care providers.
Another out-of-network benefit is the option to be seen by those well-reputed doctors that work independently of insurance while still enabling some coverage. The advantage of staying within the network does mean, however, lower copayments for the insured. Additionally, for a person on this plan who is willing to pay higher premiums for their insurance, there is also the added benefit of opting for a lower deductible and reduced copayments. PPOs offer both freedom and the flexibility to choose and that's a significant difference!
What do PPO Health Insurance Plans cost? 
A question on the minds of all those shopping for a health insurance plan is how much does a PPO health insurance plan cost? With fewer limitations placed on the subscriber's choice of a medical provider and because PPOs are costlier to manage, these plans do come at a higher price tag. However, despite this; they're very reasonably priced when compared with average health plan costs.
If members stay within the PPO network when selecting a healthcare provider, they pay lower contributions to the cost of medical services (copayments). Alternatively, if the insured takes up the option of choosing medical providers outside of the network, this will mean more costly copayments for members.
Members may need to reach a deductible before coverage starts. A deductible, of course, is how much you need to reach before insurance coverage begins. Until this amount is reached, the insured is responsible for paying all medical costs out of their pocket. This also means, of course, that when the amount is reached, it is the time when the insurer will begin to pick up its portion of the medical costs.
Taking all of this into consideration, is a PPO health insurance plan worth going for? Well, millions of subscribers have discovered that, with the extensive benefits offered as part of the package, it certainly is worth every cent! 
The Major factors that can affect the premium are
The applicants' age

The applicant's family status

The applicants' location

The applicants status, whether applying for an individual PPO or group PPO coverage
PPO Health Insurance Rates by State
Below is a listing of small-group PPO health insurance rates for each state. For individual PPO rates, as well as self-employed PPO rates and freelancer PPO rates, just click on your state to be taken to your States Individual PPO health insurance page, 
| | Bluecard Premier PPO HSA 6750 | Bluecard Premier PPO 2500 | Bluecard Premier PPO 350 |
| --- | --- | --- | --- |
| | National | National | National |
| In-Network Benefits | National Bluecard Network | National Bluecard Network | National Bluecard Network |
| Office Co-pay | 0% after deductible | $40 | $25 |
| Specialist Co-pay | 0% after deductible | $60 | $35 |
| Rx: Generic/Brand/High Brand | 0% after deductible | $0/25%/50% | $0/25%/50% |
| Emergency Room | 0% after deductible | 30% after deductible | 30% after deductible |
| Hospital Co-pay | 0% after deductible | 30% after deductible | 30% after deductible |
| Referrals Needed | No | No | No |
| In-Network Deductible (single/family) | $6,750/$13,500 | $2,500/$5,000 | $350/$700 |
| Max Out of Pocket (single/family | $6,750/$13,500 | $7,000/$14,000 | $6,350/$12,700 |
| In-Network Co-Insurance | 0% | 30% | 30% |
| Out-of-Network Benefits | | | |
| Deductible | $10,000/$20,000 | $6,750/$13,500 | $700/$1,400 |
| Out of Pocket Max (single/family) | $20,000/$40,000 | Unlimited | Unlimited |
| Co-Insurance | 50% | 50% | 50% |
| Other Benefits | | | |
| Vision/Dental | Pediatric Vision and Dental | Pediatric Vision and Dental | Pediatric Vision and Dental |
| Mental/Substance | 0% after deductible | 30% after deductible | 35% after deductible |
| Renewal Date | 12/31/2021 | 12/31/2021 | 12/31/2021 |
| Premium | | | |
| Single | $707.00 | $814.00 | $990.00 |
| Couple | $1,394.00 | $1,630.00 | $2,020.00 |
| E+child | $1,202.00 | $1,394.00 | $1,715.00 |
| Family | $1,778.00 | $2,078.00 | $2,570.00 |
| Summary of Benefits | Bluecard Premier PPO HSA 6750 | Bluecard Premier PPO 2500 | Bluecard Premier PPO 350 |
Who is the Best Fit for a PPO Plan?
Ideally, it depends on what the insured is looking for. If it's the flexibility to go out of network, as well as the large in-network offered, no need for referrals, and the possibility to seek coverage on a nationwide level,  then a PPO is the right option for you. It's also important to consider which companies offer PPOs. Some companies tailor to group health insurance plans only, while some companies do offer coverage on an individual basis through their state exchange, as well as off-exchange plans. For off-exchange, that means purchasing a plan through a broker or an association that offers its members health insurance plans. 
Where are PPO Health Plans Sold?
On-Exchange
In many cases, it's possible to go to your x to purchase a PPO health insurance plan. Depending on the state you're located in, your exchange will either be federal or state-sponsored.  Locate options using the filtering mechanisms which allow you to sort by type of plan ( HMO, PPO, POS, EPO, HSA …). Select PPO which would then list all available options in your state. The true benefit of using the exchange is that you may qualify for a health insurance subsidy, which can drastically reduce the cost of an individual health insurance plan. Keep in mind that if you work for a company that provides health insurance benefits, then an on-exchange option is not an option for you 
Off-Exchange  
PPO health insurance plans can as well be sold off-exchange, either directly through the health insurance company or through a third party such as an online brokerage like www.forhealthinsurance.com The advantage to using a third party is that you can company plans from several health insurance companies at the same time, giving you cost and benefit comparing options. When going directly to an insurance company you don't have that cost-and-benefit comparison option.
Third-Party
You have the option to use a broker to purchase PPO health insurance plans. Whether On-Exchange, Off-exchange, or through third-party organizations such as Business Associations. Why use a broker to assist you? Well in most cases the broker does not charge a fee and you're receiving expert advice from someone very familiar with the PPO plans available in your region.  That applies to individuals, Small business owners, freelancers, and the self-employed. Especially for those that are self-employed and freelancers. A broker can provide you with options not found elsewhere. 
Finding PPO Plans by state and county
You probably have more questions on your mind and need more specific information about where you can buy a PPO health insurance plan. For your convenience, we have listed details of PPO health insurance plans offered in every state and lists every county, city, and company within each state that sells them. You can find valuable information related to the PPOs we offer including the all-important cost of each. We hope that all your PPO-related questions can be answered here; we aim to leave no detail uncovered and to make the whole process of acquiring a PPO plan as stress-free as possible. Please call us toll-free to find a PPO plan in your region (888)215-4045
Most Common Questions Regarding a PPO Health Insurance Plan
How much does a PPO cost?
PPO Health plans are typically more expensive than other plans due to the flexibility that a PPO provides.  Use the table above to see PPO rates and shop plans in your state
Does my doctor accept PPO Insurance?
Locate the list of health insurance companies above and select your company. Once in their network listing, visit the PPO network section. You can always call your doctor's office, however, its best to verify with the health insurance company
Where can I buy a PPO health insurance plan?
PPO Health plans are purchased through broker representatives that can not only set the health plan up but also assist with any premium or claims issues throughout the plan year.  It is best to work with a broker that is appointed with every carrier in the area so there is a choice when selecting a carrier and/or plan.
How do I qualify for a PPO plan?
To qualify for a PPO plan, the person applying must either be employed, self-employed, or a freelancer.
Can I buy a PPO plan anytime?
Yes.  PPO health plans are available to go effective at the beginning of any month during the year. Typically, the application should be complete by the 15th of the prior month for coverage to begin on the 1st of the following month.
What happens if I'm not happy with my PPO health plan, can I change it?
Since the PPO plan application is a contract, you cannot change your plan until your PPO plan renews, usually one year after the start date.  You can switch PPO plans mid-year as long as you change to a different insurance company.
What makes a PPO plan special?
The flexibility of a PPO health plan is what makes it special You can go to any doctor you choose. That's a great advantage as compared to an EPO or HMO plan where you must use their in-network providers.  This is especially true for those who travel often and want to be able to see a doctor or specialist anywhere in the country.
Do I have to be self-employed or part of a group to buy a PPO plan?
There are two ways of getting a PPO health plan. As an employee of a company whose company plan is a PPO.  The second way is for individuals, freelancers, and sole proprietors to become part of an association that is offering a PPO.
Do the State Exchange and healthcare.gov sell PPO health plans?
For Individual health coverage, no they do not.  Only EPO and HMO plans are offered through the State Exchanges.  For small businesses, yes however they are limited.
Do freelancers qualify for PPO plans?
A freelancer is considered an individual which therefore means they must join an association that is offering a PPO health plan to be eligible for the insurance.
Can I qualify for a PPO plan if I am 65 or older?
Employees of a company that is 65 or older have the option of keeping their PPO health insurance plan instead of going on Medicare.  If a person is not working for a company, they would not be eligible for a PPO plan.
Are PPO plans offered as short-term medical plans?
Yes.  If an individual is seeking a short-term medical plan, there are PPO Plans available however many short-term medical plans are not comprehensive health insurance plans so be sure to review the summary of benefits.
Why are PPO plans more expensive than other types of health plans like HMOs?
Due to the flexibility that PPO plans offer and higher reimbursement to select doctors and hospitals, they are typically more expensive than an HMO plan where someone must utilize the contracted providers.  There is a cost to having the ability to see any provider in the nation.
Why are there more hospitals and doctors in a PPO plan than in non-PPO plans?
Insurance companies pay exclusive doctors and hospitals above-average reimbursement rates to have them participate in PPO plans. As such those doctors who don't accept the reimbursement rate of lesser plans such as HMOs will often participate in a PPO.