Shop Florida PPO Health Insurance Plans in all 67 Counties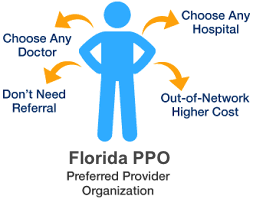 Are you looking into purchasing a Florida PPO health insurance plan? Or are you just wanting to better understand the Florida PPO health insurance market and compare rates?  Here you will find all the key resources needed to help you decide on choosing  the right Florida PPO plan
Florida PPO Health Insurance Carriers
Below is the most updated list of Health insurance carriers that offer Florida PPO health insurance plans for sale in 2022 for the Small Business market.  Only select carrier plans are available to work individuals, Freelancers, and the Self Employed. Please call for the latest carrier information.

What to Know When Shopping for a

Florida

 PPO Insurance Plan
Below are the most common questions and concerns we hear of when shopping for a Florida PPO health insurance plan.
Are Your Doctors In-Network – Before choosing a health insurance plan you should make sure that your general doctor(s) are currently accepting new patients. even though an FL PPO plan will cover out-of-network services.  Receiving care at an out-of-network doctor may cost substantially more than if that doctor is in-network.
Don't just ask the receptionist of the doctor's office if they accept a certain health insurance plan before enrolling. You should confirm directly with the insurance carrier or your broker that your doctors are in-network. Why the big concern? Just, keep in mind that if an out-of-network provider suggests a procedure, then all of the services that are provided by that doctor will be viewed as out of network, even if the facilities and providers are in-network.  With a Florida PPO health insurance plan, all of your out-of-network medical care will count towards your out-of-network deductible
Lower Monthly Premium May Result in Higher Costs– Health insurance has a simple formula: the lower your monthly premium, the you are more likely going to pay higher costs when you use the plan. If you're in good health and do not foresee any health-related care needed and don't use medicine on a very regular basis, then maybe you're better off selecting a lower costing health insurance. Though, if you find that your level of medical care and prescription usages are high, then you may save money in the long run by purchasing a plan with a higher monthly cost. Always consider your current health condition when shopping for a Florida PPO health insurance plan.
Health Insurance is a Contract – Like every contract, both parties agree to live up to the contract (in most cases for one year). If you find that you are not happy with your health plan, you can't go back to your insurance company in the middle of the year and ask them to switch plans.  As such, be sure to choose a  plan that is a good match before signing a contract.  If you had a State Marketplace plan or federal marketplace plan that has lapsed, you can get an FL PPO health plan mid-year as long as you are employed. 
Types of Insurance Coverage – EPO, PPO, POS, HMO, HDHP, and HSA. The first 4 describe different health insurance coverages that provide you with or without the ability to seek specialty care and receive out-of-network and out-of-state care. Also, different coverages have different requirements relative to the need for referrals. If you're seeing specialists more often than  an out-of-network plan offers you the flexibility needed
Do you travel often for work or reside in several states per year, then perhaps a Florida PPO that offers flexibility is needed. The last two types of plans,  HDHP and HSA's allow you to create tax-free savings account specifically designed for qualified medical costs
Are Essential Health Benefits Covered? – All Florida PPO plans cover the 10 essential health benefits. This provides you with a minimum level of coverage that is guaranteed, which is the standard set by the Affordable Care Act. Why would the public need a minimum standard level? Well, the cost of medical care treatment is unaffordable without an insurance plan in place and can lead to financial ruin. Having a plan that includes the bare minimum essential health benefits provides a safeguard.
Florida

PPO Rates for 2022
Here's a table of Individual Florida PPO plans.  The information below is approximate. Please call for detailed  plan information
| | Cigna Elite PPO Advantage 5000 | Cigna Elite PPO Silver 3000 | Cigna Elite PPO 1000 |
| --- | --- | --- | --- |
| | National | National | National |
| In-Network Benefits | Cigna PPO OAP Network | Cigna PPO OAP Network | Cigna PPO OAP Network |
| Office Co-pay | $20 | $40 | $30 |
| Specialist Co-pay | $60 | $60 | $50 |
| Rx: Generic/Brand/High Brand | $0/25%/50% after deductible | $0/25%/50% | $0/25%/50% |
| Emergency Room | 30% after deductible | 30% after deductible | 20% after deductible |
| Hospital Co-pay | 30% after deductible | 30% after deductible | 20% after deductible |
| Referrals Needed | No | No | No |
| In-Network Deductible (single/family) | $5,000/$10,000 | $3,000/$6,000 | $1,000/$2,000 |
| Max Out of Pocket (single/family) | $8,150/$16,300 | $8,150/$16,300 | $8,150/$16,300 |
| In-Network Co-Insurance | 30% | 30% | 20% |
| Out-of-Network Benefits | | | |
| Deductible | $10,000/$20,000 | $6,000/$12,000 | 6,000/$12,000 |
| Out of Pocket Max (single/family) | Unlimited | Unlimited | Unlimited |
| Co-Insurance | 50% | 40% | 50% |
| Other Benefits | | | |
| Vision/Dental | Pediatric Vision and Dental | Pediatric Vision and Dental | Pediatric Vision and Dental |
| Mental/Substance | 30% after deductible | 30% after deductible | $50 |
| Renewal Date | 12/31/2022 | 12/31/2022 | 12/31/2022 |
| Premium | | | |
| Single | $735.00 | $905.00 | $1,285.00 |
| Couple | $1,400.00 | $1,790.00 | $2,635.00 |
| E+child | $1,213.00 | $1,520.00 | $2,2215 |
| Family | $1,743.00 | $2,225.00 | $3,305.00 |
| Summary of Benefits | Cigna Elite PPO Advantage 5000 | Cigna Elite PPO Silver 3000 | Cigna Elite PPO 1000 |
Most Common Questions Regarding a

Florida

 PPO Health Plan
How much does a Florida PPO health insurance plan cost?
Florida PPO Health plans are almost always more expensive than other plan types due to the flexibility that a PPO Plan provides.  Use the table above to see FL PPO rates and shop plans in your state
Does my doctor accept

Florida

PPO Insurance?
Locate the list of health insurance carriers above, select your company. Once in their list of providers, visit the PPO network section. Another option is to  call your doctors office to verify they do accept the FL PPO plan of your choice
Where can I buy a

Florida

 PPO health insurance plan?
FL PPO Health plans are made available through broker representatives. their service will set up the health plan and also assist with any premium or claims issues that you may encounter through the plan year.  Find a broker that is appointed with every carrier in the state so you have a greater selection of plans to choose from
How do I qualify for an FL PPO plan?
In most cases to qualify for an FL PPO plan,  the person applying must either be employed, self-employed or a freelancer.
Can I buy an FL PPO plan anytime?
Yes.  FL PPO health plans have a first of the month start date throughout the year. Your application should be complete by the 15th of the prior month for coverage to begin on the 1st of the month.
What happens if I'm not happy with my FL PPO health plan, can I change it?
No, you cannot change your plan until your PPO plan renews, and that's usually after one year after the start date.  However, you're able to switch FL PPO plans throughout the year as long as your selecting a different insurance company.
What makes a PPO plan special?
It's always the flexibility of a PPO health plan that makes it special You can go to any doctor of your choice. That's a tremendous advantage as compared to other plan types such as an EPO or HMO plan, where you must use their in-network providers.  This is most true for those who are frequent travelers and want to be able to see a doctor or specialist anywhere throughout the country.
Do I have to be self-employed or part of a group to buy a PPO plan?
The two most common ways of getting an  FL PPO health plan are, as an employee of a company whose company plan is a PPO.  The second most common way is for individuals, freelancers, and the self-employed to become part of a business association that offers PPO plans.
Do the State Exchange and healthcare.gov sell PPO health plans?
Not for Individual health coverage,  Only EPO and HMO plans are offered on the Federal Exchange and State Exchanges.  For small businesses, yes though they tend to be limited.
Do freelancers qualify for FL PPO plans?
By law, freelancers are considered individuals, which means they would need to join an association that is offering a Florida PPO health plan to be eligible to purchase insurance.
Can I qualify for a PPO plan if I am 65 or older?
If you work for a  company and are 65  you often have the option of keeping your  FL PPO health insurance plan, instead of going on Medicare.  If a senior is not employed, they would not be eligible for a Florida PPO health insurance plan.
Are PPO plans offered as short term medical plans?
Yes.  there are PPO plans that are available as short term however many of those medical plans are not comprehensive health insurance so it, let the buyer beware and be sure to review the summary of benefits.
Why are PPO plans more expensive than other types of health plans like HMOs?
They make it very easy to use as you don't need referrals and they often have large hospital and doctor networks. They typically fall under the Cadillac plans of insurance. These larger networks are the result of the companies paying doctors and hospitals at a higher reimbursement rate.  There is always a cost to having a plan that offers more and is easier to use
Why are there more hospitals and doctors in a PPO plan than non-PPO plans?
Insurance companies pay doctors and hospitals at higher reimbursement levels just to have them participate in Florida PPO plans. Selected doctors who don't accept the reimbursement levels of less expensive insurance plans such as HMOs will often participate in a PPO.