Great Rates on California PPO Insurance Plans in 58 Counties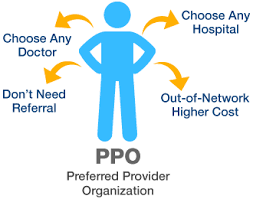 Are you shopping for insurance and considering a  California PPO insurance plan? Or perhaps you just trying to gain a  better understanding of the California PPO insurance market?  At Vista Health,  you will find key resources to help you decide on selecting the right California PPO plan
California PPO Insurance Carriers
Below you'll find the list of carriers that currently offer California PPO health insurance plans for sale in 2022, for Small Businesses.  Due to market changes, only select carriers have made plans available to working individuals, Freelancers, and sole proprietors. Feel free to call for the latest carrier information.

What You Should Know When Shopping for a

California

 PPO Insurance Plan
Below are the most common questions received by those shopping for a California PPO insurance plan.
Are Your Doctors In-Network – Most people don't like change when it comes to health insurance. That's especially true when it comes to Doctors, both general practitioners, and specialists. As such, before you settle on a plan you should always contact to ensure that your doctors are in-network, meaning that you are only subject to a copay (in most cases) to receive care.  If your doctors are not in the PPO plan that you have selected then expect to pay a much higher price when receiving care from those doctors. 
To ensure that your doctors are actually part of the network you first want to contact the insurance company to see if they a network listing online for the plan you have selected. Then see if your doctors are listed. If they are great. That's the first step but its very possible that the listing has not been updated in recent months, so contact the doctor's office directly and see what they say  Remember that with a CA PPO health plan,  your out-of-network medical treatment will count towards your out-of-network deductible and that can be a large deductible to meet.
Lower Monthly Premium May Result in Higher Costs– Health insurance has always followed a basic formula of quality vs price. When you have a lower monthly premium than except to may more for the cost of care when you're using the plan. This formula is most important based on your current health conditions, in that, if you expect to receive more care during the year than perhaps your better off spending more per month for a plan that will cost less when you're using the plan. 
The same can be said if you're in good health and don't expect to receive much medical care during the year then you might want to opt for a less expensive plan IfAlways consider your current health and health history when considering a CA PPO health insurance plan  
Health Insurance is a Contract – Health insurance is a one year contract in the state of California. For most plans, those contracts have a renewal date of January  1st. Be aware that when purchasing a CA PPO health plan, you and the insurance carrier agree to abide by the terms of the contract. As such, changes to the policy in most cases are not allowed prior to the contract renewal date.
If you find that you over or under purchased on your health plan, you cannot expect to make any changes prior to that renewal date. The only available option is that if you had an employer-based plan and lost coverage. With that, you should be able to get a CA PPO health plan through the State marketplace. 
Types of Insurance Coverage – PPO, EPO, POS, HMO, HDHP, and HSA.  describe different insurance plan designs that provide different levels of freedom regarding plan usage. For example, the need to see a specialist without a referral is usually covered under an EPO and PPO plan. Furthermore, a CA PPO plan will allow you to receive quality care through an out of network specialist and out of network facilities.  
 Travel often for work? or live in several states each year, then maybe a California PPO insurance plan which offers that flexibility is a good fit for you. The last two plan  types,  HDHP and HSA's have the advantage of  setting up a tax-free bank account designed for qualified medical expenses  
Are Essential Health Benefits Covered? – By law, all California PPO insurance plans are required to cover the 10 essential health benefits. This provides the insured with a guaranteed minimum level of health benefits. A  standard that was set up by the Affordable Care Act. We need a minimum standard level because the cost of medical care is very high and ever-increasing, and without an insurance policy in place, it often leads to financial ruin for persons with serious medical issues. providing these minimum essential health benefits is a built-in safeguard.
California

PPO Rates for 2022
The following is a table of Common individual California PPO plans, including rates and benefits. This information is approximated so it's suggested that you  call for specific plan information
| | Cigna Elite PPO Advantage 5000 | Cigna Elite PPO Silver 3000 | Cigna Elite PPO 1000 |
| --- | --- | --- | --- |
| | National | National | National |
| In-Network Benefits | Cigna PPO OAP Network | Cigna PPO OAP Network | Cigna PPO OAP Network |
| Office Co-pay | $20 | $40 | $30 |
| Specialist Co-pay | $60 | $60 | $50 |
| Rx: Generic/Brand/High Brand | $0/25%/50% after deductible | $0/25%/50% | $0/25%/50% |
| Emergency Room | 30% after deductible | 30% after deductible | 20% after deductible |
| Hospital Co-pay | 30% after deductible | 30% after deductible | 20% after deductible |
| Referrals Needed | No | No | No |
| In-Network Deductible (single/family) | $5,000/$10,000 | $3,000/$6,000 | $1,000/$2,000 |
| Max Out of Pocket (single/family) | $8,150/$16,300 | $8,150/$16,300 | $8,150/$16,300 |
| In-Network Co-Insurance | 30% | 30% | 20% |
| Out-of-Network Benefits | | | |
| Deductible | $10,000/$20,000 | $6,000/$12,000 | 6,000/$12,000 |
| Out of Pocket Max (single/family) | Unlimited | Unlimited | Unlimited |
| Co-Insurance | 50% | 40% | 50% |
| Other Benefits | | | |
| Vision/Dental | Pediatric Vision and Dental | Pediatric Vision and Dental | Pediatric Vision and Dental |
| Mental/Substance | 30% after deductible | 30% after deductible | $50 |
| Renewal Date | 12/31/2022 | 12/31/2022 | 12/31/2022 |
| Premium | | | |
| Single | $735.00 | $905.00 | $1,285.00 |
| Couple | $1,400.00 | $1,790.00 | $2,635.00 |
| E+child | $1,213.00 | $1,520.00 | $2,2215 |
| Family | $1,743.00 | $2,225.00 | $3,305.00 |
| Summary of Benefits | Cigna Elite PPO Advantage 5000 | Cigna Elite PPO Silver 3000 | Cigna Elite PPO 1000 |
Common Questions Relative to Purchasing a

California

 PPO Health Plan
How much does a

California

PPO Health Plan cost?
California PPO insurance plans are more expensive than other plans due to the larger networks and greater flexibility.  Use the table above to compare CA PPO premiums.
Does my doctor accept

California

PPO Insurance?
First, research the list of health insurance companies above and choose your company. Once in their provider directory, see if they have a dedicated PPO network section. Search for your doctor and then call the doctor's office to ensure they are participating or not.
Where can I buy a

California

PPO health plan?
PPO Health plans are purchased through brokers that sell locally in your region, as well as working with an online broker. They can set the health plan up and always assist you with issues you have regarding using the policy. Try to locate a broker that's licensed with multiple health insurance companies, this way you  will have a larger selection of plans to choose from
How may  I qualify for a CA PPO plan?
Qualifying for a CA PPO plan requires you to be either be self-employed, a freelancer. or employed at least on a part-time basis.
Can I purchase a CA PPO plan anytime?
Yes.  You can purchase a CA PPO health plans anytime throughout the year, however, most plans have a first of the month start date. that usually means that you have to complete the application by the 1st of the month to have your plan start the following month.
What happens if I'm not happy with my CA PPO health plan, can I change it?
As mentioned above, you have signed a contract for 1 year. You cannot make any changes to your plan. Some companies do allow exceptions however most don't Your only option is to select a new plan with a different carrier.
What makes a PPO plan special?
Its always about being able to receive the highest level of care and that's just what makes a PPO plan special. No limitations on seeing doctors or hospitals, as long as you are willing to meet your out-of-network deductible and coinsurance. That's a very important advantage as compared to other plan types, such as an  EPO or HMO plan where you are required to use their in-network providers.
Do I have to be self-employed or part of a group to buy a PPO plan?
The two most common ways of being covered under a   CA PPO health plan are, as an employee of a company whose company plan is a PPO, or joining an association. Most associations are open to freelancers and sole proprietors.
Do the CA State Exchange and healthcare.gov sell PPO health plans?
Not for Individuals, The closest plan type to a PPO is an EPO, which is available. however, it doesn't have the important out-of-network element   For small businesses, yes there are some PPO options available though they really don't have a large selection to choose from and are limited as not many carriers offer PPO Plans
Do freelancers qualify for CA PPO plans?
As a result of the affordable care act, a freelancer is now considered an individual, as such,  they would need to join a business association that offers their membership  California PPO insurance plan options.
Can Someone qualify for a PPO plan if they're  65 or older?
The easy answer is yes, however, the situation is not very common. IF a senior 65 and older are employed with a company that has a CA PPO plan then yes they can remain under that plan instead of opting for medicare. A senior not employed doesn't have that option as they cannot purchase a PPO through an association when they are eligible for medicare.
Is there short term PPO  medical plans?
Yes, if someone is in the market for a short term medical plan, there are some PPO Plan options available.  Unfortunately, most short term medical plans don't cover the 10 Essential health benefits so your best option is to find a true insurance plan, that does include the 10 EHB.
Why are PPO plans traditionally more expensive than non-PPO plans like HMOs?
They just offer more when it comes to network size and less limitation on coverage use, by allowing its members to receive care out-of-network.  You're paying a premium for that plan freedom and often times those doctors that are out-of-network choose not to be associated with a health plan for various reasons. Most often though, it's a low reimbursement rate and protocols they must abide by that keep these medical professionals from signing on to become a network doctor.
When a doctor is considered at the top of their field they most likely opt to not be associated with any insurance company. They charge more than other doctors in their field. You're paying for that expertise. As such a CA PPO plan does allow you to receive care from those top-tier medical professionals, which trickles back down to the consumer in higher premiums
Why are the hospital and doctor networks of PPO plans larger than non-PPO plans?
Health Insurance carriers reimburse their network doctors and hospitals above-average rates to have them as members in their California PPO plans, As expected,  doctors that don't accept the reimbursement rate of lesser paying plans such as HMOs will often choose to participate in a PPO network.