Shop Georgia PPO Health Insurance Plans in all 159 Counties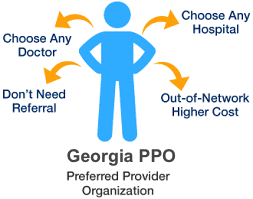 Are you shopping for a Georgia PPO plan? Are you looking to better understand the Georgia PPO health insurance market and compare GA PPO rates? At Vista Health Solutions, we pride ourselves on our understanding of PPOs and plan options. We'll help you will find all the information needed to help you shop and compare Georgia PPO plans.
Georgia PPO Insurance Carriers
Below you'll find the list of carriers that currently offer Georgia PPO health insurance plans for sale in 2020, for Small Businesses.  Due to changes in the marketplace, only certain carriers are making plans available to individuals that are working, Freelancers, and the self-employed. call for the latest health carrier information.

What to Know When Shopping for a

Georgia

 PPO Insurance Plan
Here are some of the most common questions we receive regarding shopping for a Georgia PPO health plan.
Are Your Doctors In-Network – Before buying a health insurance plan you want to make sure that the doctor(s) you use most often are part of the network even though a PPO plan will cover out-of-network costs.  Visiting an out-of-network provider may cost much more than if the doctor is in-network.
Do more than simply asking someone at the doctor's office if they accept a certain insurance plan before you enroll. You should confirm with the insurance carrier or an agent, a broker that your doctors are in fact in-network. Why should you be concerned? If an out-of-network physician suggests services, then all of those recommended services by that doctor are now considered out of network, even if all facilities and doctors are in-network.  On the bright side,  with a GA PPO health plan, any of your out-of-network medical costs will be applied towards your out-of-network deductible.
Lower Monthly Premium May Result in Higher Costs– Health insurance has a simple formula that it follows: the lower the premium is, the more likely you're going to pay higher prices when you use the insurance. If you're in overall good health and do not anticipate any medical issues and don't use meds regularly, then you might be best off opting for a lower-cost health plan. However, if your medical expenses and drug usage is high, then you might save money by selecting a plan that has a higher monthly premium. Always take into account your current health when shopping for a Georgia PPO health insurance plan.
Health Insurance is a Contract – Health insurance is a contract and both parties the insurer and insured agree to live up to the contract (most often for a period of one year). If throughout the year, you find that you are not happy with your plan, you can't return to the insurance company mid-year and request a change in coverage.  As such, choose the right plan that meets your needs before signing the contract.  If your most recent plan was a State Marketplace plan that was canceled or lapsed, you're able to purchase a GA PPO health plan mid-year as long as you're employed. 
Types of Insurance Coverage – EPO, PPO, POS, HMO, HDHP, and HSA are different acronyms that describe certain types of health insurance coverages that have or don't have the freedom to receive out-of-network and out-of-state coverage. Also, different plans have different needs related to referrals. If you're regularly seeing out-of-network providers, then you should opt for a plan that has that flexibility.
If you on the road for work or live in several states throughout the year, then a GA Plan is your best choice. ,  HDHP and HSA's have a tax-free savings account element specifically for qualified medical costs, that you can opt for through special HSA banks.  
Are Essential Health Benefits Covered? – All Georgia PPO plans cover the 10 essential health benefits. This provides the insured with a minimum level of coverage that is guaranteed. That minimum level is the standard set by the Affordable Care Act. Why did the ACA consider minimum standard levels of coverage? Well, the cost of medical care is excessively high and without an insurance plan in place, it can often lead to financial ruin. By building in a guaranteed element, provides us with a safeguard.
Georgia

PPO Rates for 2020
The PPO plan rate information below is approximated. Please call for specific rate and plan information
Benefits

In-Network

Out-of-Network

Age 19 – 64

Office Copay

$20/$60

Deductible

$5,000

Maximum OOP

$8,160

Rx

0/25%/50%

Office Copay

$40/$60

Deductible

$4,000

Maximum OOP

$8,150

Rx

0/25%/50%

Office Copay

$30/$50

Deductible

$1,000

Maximum OOP

$8,150

Rx

0/25%/50%

Office Copay

Deductible

Deductible

$6,750

Maximum OOP

$6,750

Rx

Deductible

Office Copay

$40/$60

Deductible

$2,500

Maximum OOP

$8,150

Rx

0/25%/50%

Office Copay

$25/$30

Deductible

$350

Maximum OOP

$700

Rx

0/25%/50%
Most Common Questions Regarding a

Georgia

 PPO Health Plan
How much does a

Georgia

 PPO cost?
Georgia PPO Health plans are often higher priced than other plans due to the freedom that PPO plans provide.  Use the table above to see GA PPO rates and shop plans in your state.
Does my doctor accept

Georgia

PPO Insurance?
Identify your company from the list of health insurance companies above.  Go to their site and once in their network listing, visit their PPO network section. You may always call the office of your physician, though, its best to confirm with the health insurance company.
Where can I buy a

Georgia

 PPO health insurance plan?
GA PPO Health plans are purchased through broker representatives that can not only set the health plan up, but also assist with any premium or claims issues through the plan year.  Your best option would be to work with a broker that is established and works with every carrier in the region so that you have a greater choice when selecting a company and/or plan.
How do I qualify for a GA PPO plan?
To qualify for a GA PPO plan, the person applying must either be employed, self-employed or a freelancer.
Can I buy a GA PPO plan anytime?
Yes.  GA PPO health insurance plans are eligible to go into effect at the beginning of each month during the year. In most cases, the application should be submitted by the 15th of the prior month for your plan to begin on the 1st of the following month.
What happens if I'm not happy with my GA PPO health plan, can I change it?
Since the PPO health plan is a binding contract, you cannot make changes to your plan until your plan comes up for renewal, one year after the start date.  You can switch plans mid-year as long as your changing to a different insurance carrier.
What makes a PPO plan special?
The flexibility PPOs have is what makes them unique.  You can visit any doctor you choose.  That's a strong benefit as compared to an EPO or HMO that requires you to use their in-network providers.  This is especially important for those who travel often and need to be able to see a doctor or specialist throughout the country.
 Are you required to be self-employed or part of a group to buy into a PPO plan?
To sign up with a GA PPO health plan, you have two main options.  One is as an employee of a firm whose insurance plan is a PPO.  The second way is for working individuals, freelancers, and sole proprietors to join up with a business association that is offering a PPO.
Can I buy a PPO Plan on the State Exchange or healthcare.gov?
For Individual health plans, no it is not an option.  Your options through the Federal Exchange and State Exchanges are  EPO and HMO.  Small employers do have the option to purchase PPO plans, however, they are limited.
Do freelancers qualify for GA PPO plans?
Since drafting of the ACA, a freelancer has the same limited opportunities as an individual, and therefore they would need to become a member of an association that is offering a PPO health plan option.
Are seniors aged 65 and older eligible for PPOs?
If that senior is employed and the company has a PPO plan in place then yes, that senior would opt to keep the health plan instead of going on Medicare.  If that senior was not employed with said company, then no, they would not be eligible for a Georgia PPO plan.
Can a PPO plan be a short term medical plan?
Yes.  If your looking for a short term medical plan you can find some that have PPO networks, however, almost all short-term medical plans are not true health insurance policies so be sure to choose wisely.
How come PPO plans cost more than other types of health plans like HMOs and EPOs?
Georgia PPO plans are flexible by design and offer a higher reimbursement rate to chosen medical practitioners and hospitals.  They almost always cost more than other plan types such as an HMO or EPO. Those plans require their members to stay within the network.  Having the ability to utilize any provider throughout the nation has a premium price tag.
Why is it that PPO plans have more hospitals and doctors in their networks than non-PPO plans?
PPO Health Insurance companies reimburse their select doctors and hospitals at a higher-than-average reimbursement rate to participate in their PPO plans. HMOs and EPO plan types do not offer the same reimbursement and many highly skilled physicians choose not to participate in those lower reimbursed plans.