Shop Emblem Health and Save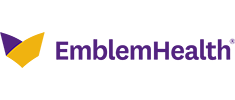 Do you want to shop for an Emblem Health Insurance plan? Or do you want to compare various health insurance options available in New York? Then Vista Health Solutions can help you with that. We are a licensed insurance broker and are contracted with all of the major health insurers in the state, and that includes Emblem Health. With our quoting engine, you'll find reliable health insurers with quality health plans. Just enter your zip code, and you'll find and compare health insurance plans fast and conveniently. Should you have any concerns, make a call to our customer service representatives, and we'll help you right away.
About EmblemHealth
When Group Health Incorporated (GHI) and Health Insurance Plan (HIP) of New York merged on September 29, 2005, Emblem Health Insurance was born. Thus, the largest health insurance company based in New York State was created. Emblem provides coverage to over 4 million individuals, and these members have access to over 92, 000 providers. The products they offer include POS, HMO, and PPO plans. Aside from that, Emblem also provides disease management programs, claims processing, customer care, Medicare enrollment processing, telesales, and grievance and appeals resolution.

General Contact Information 
If you would like to contact emblem directly, below are the most common departments you can call or visit them online
Types of Health Insurance Plans Sold by Emblem Health
Being one of the most flexible health insurance companies in New York, Emblem offers the following plan types which allow their members the ability to balance cost and freedom. For a description of each plan type, be sure to visit our health insurance FAQ page
Emblem Health Insurance markets 
Emblem sells (or provides) health insurance plans to the following markets throughout New York State
Individual Health Insurance
Group Health Insurance
Catastrophic health insurance
Medicare
Medicaid
Child Health Plus
Essential Plan
Special Programs offered by Emblem Health 
Health Insurance companies often provide discount programs to its membership. Below are the most common discount programs offered by Emblem
Access to Registered Dietitians
Jenny Craig Discount Program
NutriSystem discount program
Vitamins and Natural Supplements
Health Club Membership discount
Massage Therapy
Acupuncture Therapy
Hearing Care
Vision Affinity Discount Program
Laser Vision Care
Other Health Care Services Products & Wellness Resources